Explore the research
Tap into our knowledge on Canada's environmental labour market.
Careers in Environmental Health and Safety: Current Job Trends and Future Growth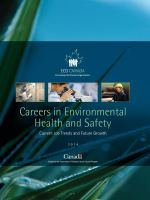 Price Free
Year 2014
Pages 16
Environmental Health and Safety (EHS) represents the largest employment area for environmental workers in Canada: over 667,000 employees use skills related to EHS.
Careers in Environmental Health and Safety delves into the job opportunities for this top demand sub-sector, including the latest info on key employer industries, required qualifications, and future job demand.
This study also offers important insights if you're a mid-career professional. Read this report to see how specific certifications and training impact your career growth and earning potential.
Highlights
Top occupations: What are the core careers in EHS?
Career progression: How do EHS practitioners start out and then move up?
Hiring trends: What industries are hiring now and what does the future hold?