Explore the research
Tap into our knowledge on Canada's environmental labour market.
Careers in Energy: Current Job Trends and Future Growth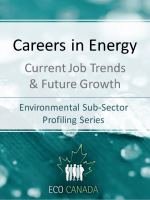 Price Free
Year 2013
Pages 41
Energy careers represent an important and growing employment opportunity for job-seekers. Over 148,000 professionals perform energy-related activities in Canada's key energy-intensive sectors, and 48% of employers in these sectors expect to hire additional workers soon. In fact, energy careers are expanding so rapidly that there is a clear need for updated and detailed information on what these jobs actually encompass and how job-seekers can prepare.
The Careers in Energy study responds to this need, offering extensive insight on key occupations, salaries and requirements for environmental jobs in Canada's energy sector.
Want to know what it takes to land a rewarding career in energy? Read this report to find out!
Highlights
Where the jobs are: discover key sectors that employ Energy professionals
What it takes to get hired: learn about required skills, education and experience
Career insights: get the latest essential info on 5 key energy career paths