EPs in Profile
See how EP leaders like you are leading their field.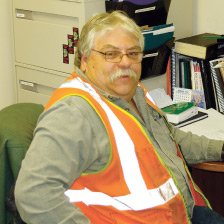 R. Cecil Burns
Environmental Coordinator/Energy Manager, Weyerhaeuser Kenora TimberStrand Plant, Kenora, ON
Setting the Stage
When asked about his career path, Cecil Burns turned to the Beatles as he described his rewarding green career as "the Long and Winding road". His impressive thirty-four years as an environmental practitioner has had many key turning points since he set out on this remarkable career journey in 1978, as a graduate of Georgian College's Resources Technology program.
According to Mr. Burns, "This program was an early forerunner of Environmental Technology programs and provided me with a sound footing in many aspects of environmental management and engineering practices."
Shortly after working as a Development Coordinator with the Ministry of Natural Resources, based in Wasaga Beach Provincial Park in southern Ontario, Mr. Burns had the opportunity to further put his education into practice as an Environmental Officer with the Ministry of Environment in Kenora, ON. Here his initial duties included monitoring municipal sewage and water plants, waste disposal sites and land developments.
This isn't all that Mr. Burns got his hands into. In the early 90's he help start up the Mine Rehabilitation section of the Ministry of Northern Development and Mines as a Mine Rehabilitation Inspector. The main function was to inspect abandoned mines, identify hazards associated with those mines and to ensure that new and operating mines developed adequate closure plans within the requirements of the Mining Act and Regulations.
Mr. Burns commented, "This was a challenging role since everything was new and much of the job required development of the policies and procedures required to fulfill the section's mandate. "
Today, Mr. Burns is the Environmental Coordinator/Energy Manager at Weyerhaeuser's Kenora TimberStrand facility. In this role he oversees a wide range of activities, from managing the facility's environmental and energy conservation programs to ensuring the facility complies with all regulatory and company environmental requirements. Mr. Burns also serves as Weyerhaeuser's Canadian Corporate Radiation Safety Officer and the Management Co-Chair of the plant's Joint Health and Safety Committee. Finally, Mr. Burns functions as a corporate travelling auditor, in which he conducts audits for EMS, Quality, Chain of Custody, Environmental Compliance and Health & Safety Exchange.
Considering the extensive amount of experience Mr. Burns has as an environmental professional, we thought we'd ask him a few questions.
The Interview
In ECO Canada's latest research on the impact of the green economy, we found that environmental employment is undergoing a remarkable phase of expansion, in which environmental workers need to apply their expertise in new contexts.
Would you say that your industry has undergone major changes that impact the types of work that environmental professionals do?
In the last five years or so the forest products industry has undergone a huge transformation, most of which has been economic, but also from a regulatory and public perception perspective. To deal with these changes, environmental professionals have had to increase their knowledge and skill levels and become more adaptable. Many in my type of position have to do more with less, become more conversant with a wider variety of issues and be more technology savvy. It is no longer enough to control what's coming out of the end of the pipe, but one needs to be able to look farther downstream at impacts and on a regional, national and global scale.
In your opinion, what does the future hold for your industry? What are the things that you expect to see in your field 5 to 10 years from now?
I think the forest products industry has a good future especially in the area of engineered lumber. I expect that over the next five to ten years more emphasis will be placed on sustainability in not only forest management practices, but in the manufacturing field as well. I think that we will see more regulatory pressure for ecosystem type management, such as watershed and airshed control. We will also see more emphasis on reducing energy consumption and on reducing waste. I think we will see more pressure from government and NGOs to reduce overall environmental footprints.
Why did you choose to get your EP designation?
I believe that individuals in any field should have some way of proving that they are competent to deliver a service or skill to an employer, client or customer. I have been a CET for over 30 years and when the opportunity to become an EP became a possibility I decided to go for it. I have been an EP since 2001 with five areas of certification and know that this designation is respected by my peers and by those for whom I work.
What value does the designation offer professionals in your field?
The EP designation is respected by peers, other professionals and other professional organizations. This respect and recognition provides an EP with level of confidence that others will know that your work is competent. It can also be a stepping stone for other certifications and designations. Being an EP in good standing recently made it easier for me to become a Certified Measurement and Verification Professional and a Licenced Toxic Substance Reduction Planner.
What would be your best advice for someone considering a career in your industry? What training/education should such a candidate pursue and how should he/she connect with employers?
My advice to someone wanting to get into this industry is to find a community college that offers a co-op environmental technology program that has an option to go on and obtain a degree following graduation from the Technology program. This route not only provides a student with some practical work experience, but it also provides them with the skills that an employer wants.
College trained individuals nearly always have practical training and have been in the field doing real environmental work. After graduating from the technology program, the student can then decide whether to continue on to obtain a degree or start their career as a technician/technologist. Either way the student has engineering skills that can be used immediately without requiring a lot of on the job training.
Many employers look for these types of skills and experience. Connecting with an employer can be easier if the student has completed co-op terms with them. Graduates should make use of networks developed during work terms or through industry connections or associations such as ECO Canada.